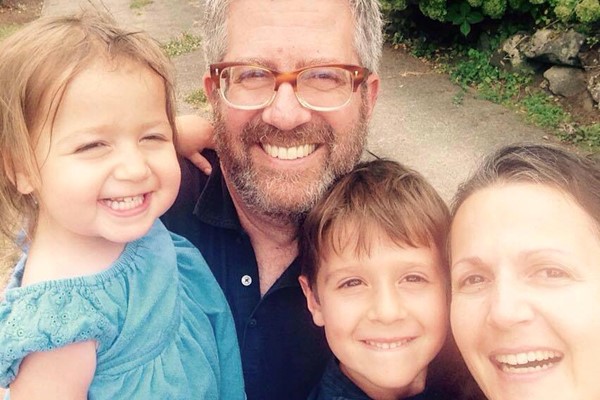 I believe that it is vitally important to support our local Jewish community in the Twin Cities and the St. Paul Jewish Federation generally. Having spent most of my life in the Los Angeles area, with a population of about 600,000 Jews, I've been astonished by the vitality, diversity, and sheer energy of the comparatively smaller Jewish community here. To use a boxing metaphor, the Jews of the Twin Cities definitely "punch a
bove their weight class!" 
My wife Judith and I, along with our children Elior (11) and Na'amah (7) moved to Mendota Heights about a year and a half ago when I accepted the position of senior rabbi at Beth Jacob Congregation. Since arriving, I've become aware of how deeply connected our shul is to Jewish life in the Twin Cities, especially St. Paul. Our congregants are involved in countless charitable, social, cultural, and political organizations in the area, and often see that involvement as inextricably tied to their Jewish identities. 
Our sages teach that the obligation to give tzedakah begins with close family, spreads outward to more distant relatives and friends, and then onward to ever larger circles of obligation - our neighborhoods, towns and cities, regions,
 countries and the entire world. We learn from this teaching that we're bound by ties of obligation both to "our own" and to the larger world, and that those ties begin close to home. 
Put another way, we reach out to the world by being rooted in thriving local communities. This means that it is an essential mitzvah, a commandment, to support our local Jewish community, the institutional expression of which is the St. Paul Jewish Federation. While Judith and I could find the "boutique" cause that's closest to our own hearts, we believe that it's essential that funds donated to the Jewish community are distributed to those individuals and organizations that need it most. 
We trust the professionals at the Federation to distribute tzedakah in wise and equitable ways, making sure that a broad array of worthy causes receive their fair share of support. We are proud to be part of the Gimel Society, which expresses our commitment to the St. Paul Federation over three years, and hope that our contribution will, in its small way, support its financial stability and long-term health.
Many years ago, while studying at a yeshivah in Jerusalem, I had my first encounter with several Jews from Minnesota enrolled at the same institution. I was struck by their combination of rootedness, commitment, and friendliness. My somewhat skeptical and ironic outlook, cultivated in Los Angeles, was no match for the combination of Jewish seriousness, solidarity, and "Minnesota nice" I encountered as I got to know them. I was instantly won over! 
Over thirty years later, I'm now blessed to call this place home - and doubly blessed to raise children here. Contributing to the St. Paul Federation is the best way I know to help sustain the remarkable Jewish community here and to keep it "punching above its weight class" far into the future.